If you had asked me whether I would ever have considered submitting a resume at a company like Intel earlier in my career, I would have comprehensively answered "no." The reason? Well – Most of the roles at Intel seemed to require 7 PhDs in engineering (which I don't have). Aside from that, the specific nature of the work is obscure – I simply had no idea how to map "doing microprocessor design, marketing and manufacturing stuff" to any activity or set of activities that I might imagine being "fun and interesting" to engage in.
That changed for me when Intel introduced the (now defunct) Intel Edison, setting into motion a transformational journey in my career. When deciding what to do with this blog, documenting my experience with the Intel Edison (and other Intel Inventor Platforms) and the impact these have had on me is at the top of my list, right next to my experience working on technical evangelism at Intel Mashery. In this post, I am going to talk about the little compute modules (Edison, Joule, Curie) that permanently changed my life.
This is a deeply personal journey for me that I am never going to forget and linked me to a world class network of great people located all around the world.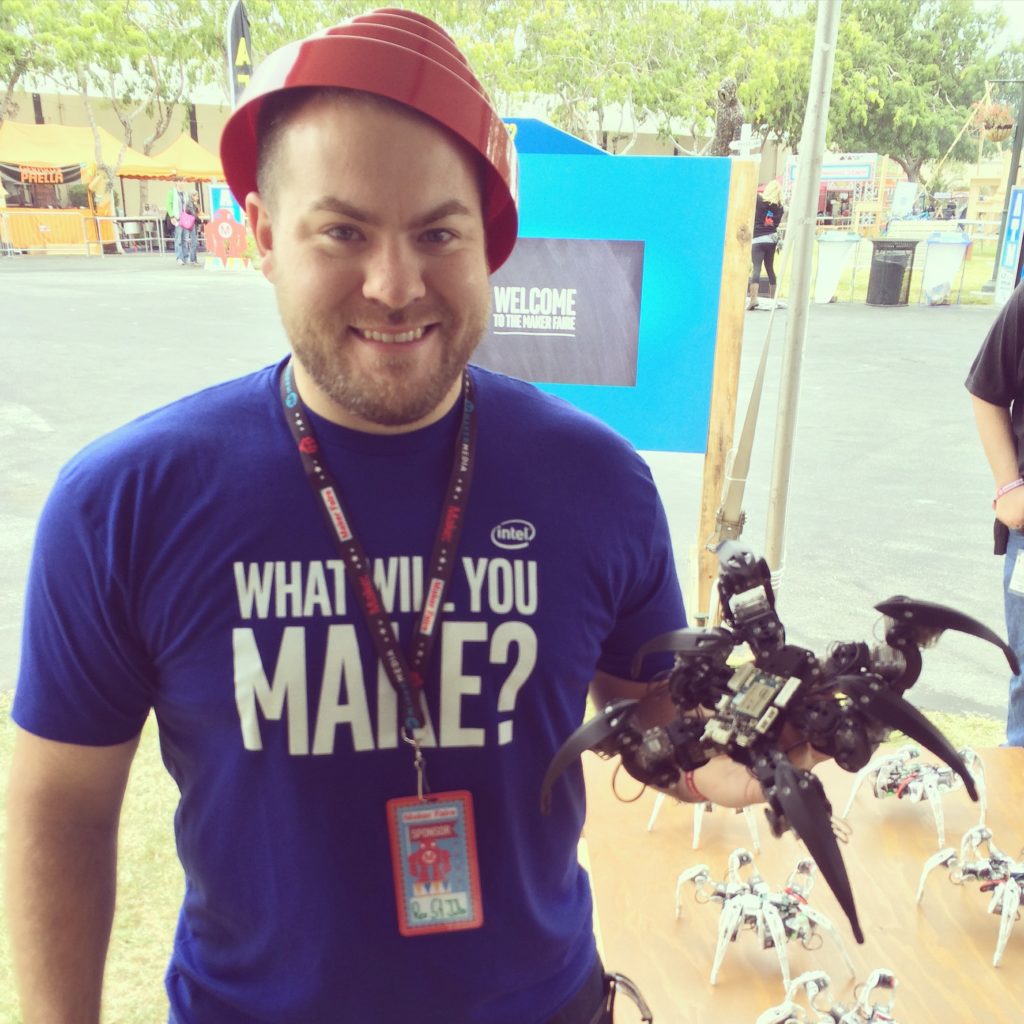 A little bit of history.
The Edison (released in 2014) was a response by Intel to changing market conditions: Software developers were increasingly "in charge" of the future of the hardware industry and making hardware smaller, more modular and more useable was a requirement. This trend has continued and is only getting stronger. In order to make Intel processors more accessible to a broader range of users, the decision was made to invest heavily in Developer Experience (DX) resulting in a string of Inventor Platforms: Intel Galileo, Intel Edison, Intel Joule, Intel Curie and Intel Movidius. Intel RealSense may also belong in this list somewhere as well. These Inventor Platforms sought to answer the following question: How can we make Intel technology more widely accessible? This was not a trivial change for Intel.
The first Inventor Platform, the Intel Galileo (an Intel Atom-based single-board computer) was a step in the right direction but there was significant room for improvement. The key features that developers wanted (a ten minutes or less to IoT setup experience) were lacking. The Intel Galileo did not include Wi-Fi or Bluetooth by default except with the addition of an expensive external Wi-Fi chip. Still working at Mashery at the time, we began to test bringing the Intel Galileo to our hackathons and handing them out to developers as we expected more and more IoT products to come down the pipe.
The reason I was even working for Intel in the first place is that I had joined through an acquisition. I was part of the very epic Mashery Developer Relations team which was being integrated into Intel around the time of the Intel Inventor Platform era.
Our first experiments with Galileo went poorly. The setup process left a lot to be desired and developers were frequently frustrated by it's complexity and cost. But we learned some key lessons about what developers needed in hardware devices which we carried forward to future products. While the Intel Galileo itself may not have been terribly successful, it set the stage for the next product: The Intel Edison.
But first, a side note.
Remembering Bryan Krzanich
The CEO of Intel at the time was Bryan Krzanich (since deposed from Intel). I wasn't really planning on commenting on Bryan when I began to write this blog post but seeing this picture of him and myself again got me thinking: Bryan invested in some cool stuff. What he attempted to do was not an easy thing to accomplish and it was through the investments he made that I got to enjoy a life-changing experience.
When Bryan came to visit us at the Intel Mashery office, I remember that his assistant specifically told everyone in our office not to supplicate or fetch him things. Why? Because he hated that. Bryan did not want people to be weird around him because he was the boss. He just wanted to be a normal guy (who ran a $270 billion company with 109,000 employees in 80+ offices around the world). Bryan went to the kitchen and got his own damn coffee, thank you very much.
Under Bryan Krzanich, the era of the Intel Inventor Platforms was started (and ultimately ended culminating in my departure from the company). I believe that these platforms were groundbreaking and the lessons I learned working with these technologies took my career in a very unexpected direction. So here is to trying.
Maker Faire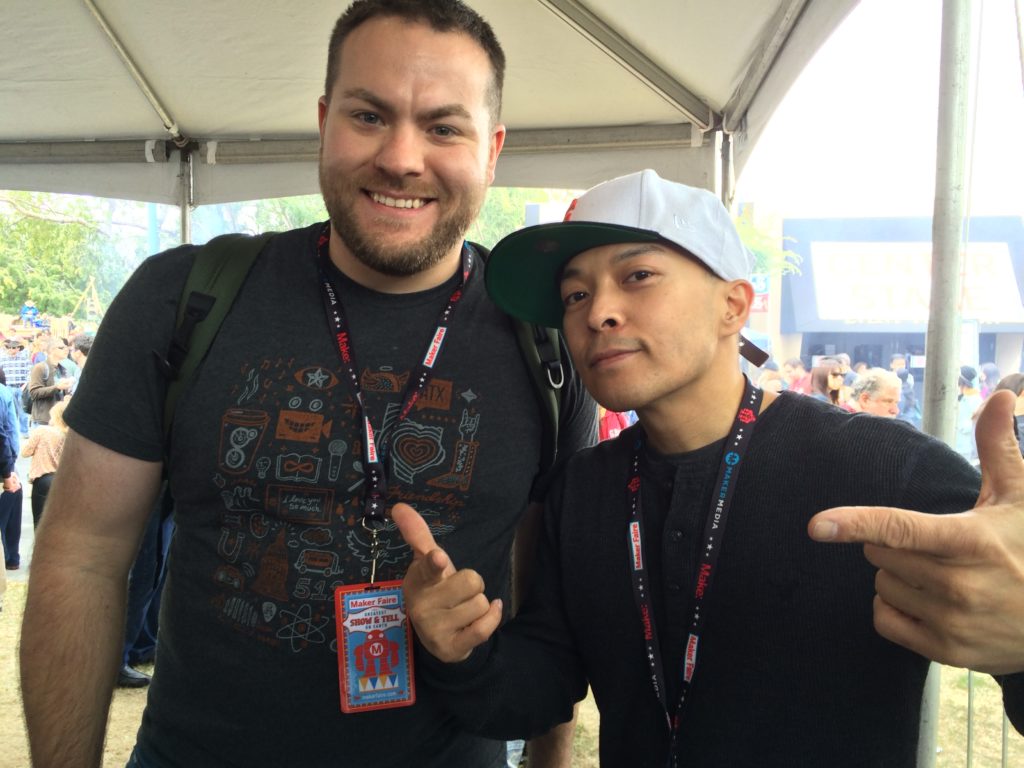 With the shift towards Developer Experience, Intel's extensive "Marketing Engines" were directed right at the little patch of land I was standing on (developer relations), unleashing a whole lot of fun times. One area that received a lot of attention was Maker Faire. It was understood at the time that a great way to market new hardware technology was to go to the Makers, people with various creative and technical backgrounds picking up hardware and building new products. Some of my best memories happened at Maker Faire.
There were dancing spiders, fashion models wearing mechanical outfits, robotic tanks, underwater submarines, drone light shows, blinking LEDs and so much more. When the Intel marketing machine got rolling, the fun times just kept coming.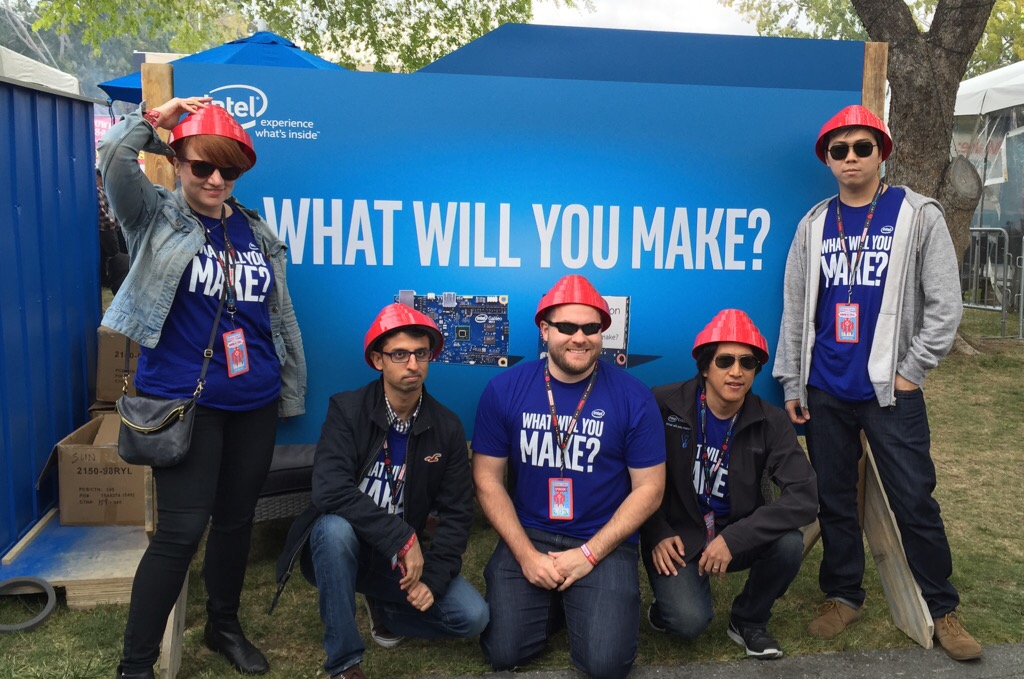 The picture above is the first Intel Maker Faire I supported in the Bay Area. It was the end of my journey with Intel Mashery and the beginning of my time as a technical evangelist, product and ecosystem manager for the forthcoming line of new Intel Inventor Platforms. This was the point that things began to get really interesting for me though it was sad because our Mashery team soon departed.
Did I mention the TV show? Intel even sponsored a series called "Americas Greatest Maker" featuring inventors who were building projects based on Intel Curie. I would say that the show probably did not connect with the target market of makers and professional developers. But no one knew what was going to work at the time, it was a massive green field so things were definitely tried that were outside of the box.
Notice: They brought a cow. Is that legal?
One thing that is undeniable is that Intel hires some people who are so talented that you can scarcely believe it. The people I met at Intel Maker and Innovator Group have gone on to amazing things.
The Launch of Hackster.io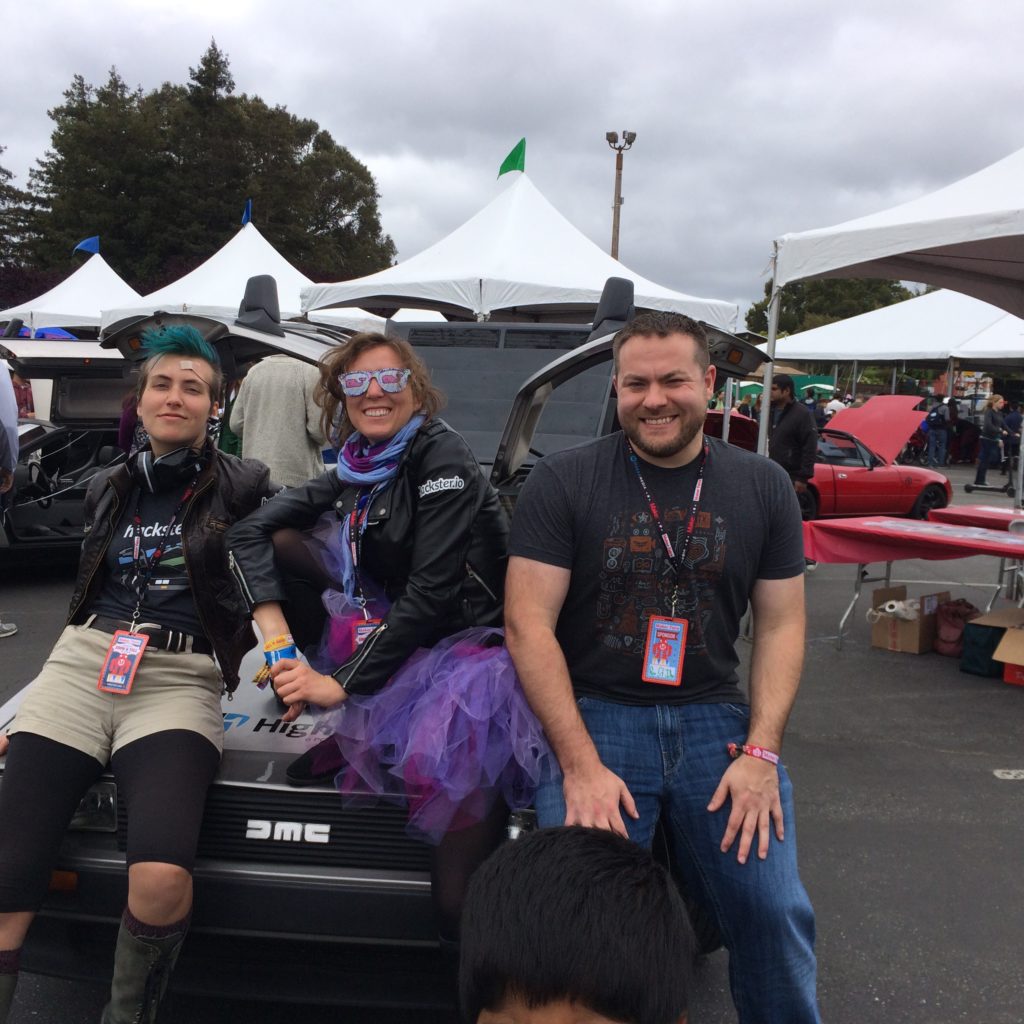 And on to the DeLorean. When I first met the CEO and founder of Hackster.io, Adam Benzion was just a guy speaking at an Intel-organized Meetup here in Seattle. I can still remember the specific event and have all the pictures. Over the course of the next 7 years, I have worked extensively with the Hackster.io crew and got to see their amazing rise and exit to Avnet.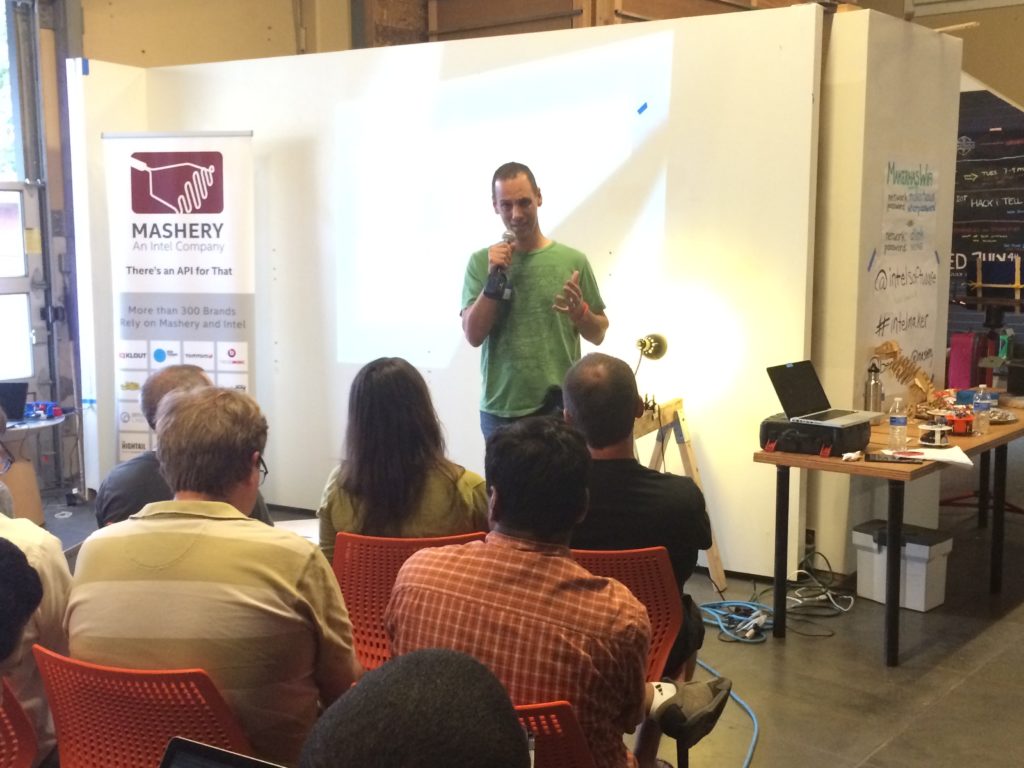 Our journey in IoT ran in parallel with many cross-over points. Hackster built the world's largest network for IoT developers and Intel needed to market it's products to those developers. One of the first things that Hackster did was organize a roadshow across the country called Hack To The Future. I supported two of these events myself on behalf of Intel. I continued to work with Hackster while at Arm for similar reasons.
The Hackster roadshow events featured developers building projects with a cross section of hardware available at the time, including the Intel Edison. It was at these events that I first began to meet the key Intel people from the ecosystem teams there, relationships which have come with me to this day.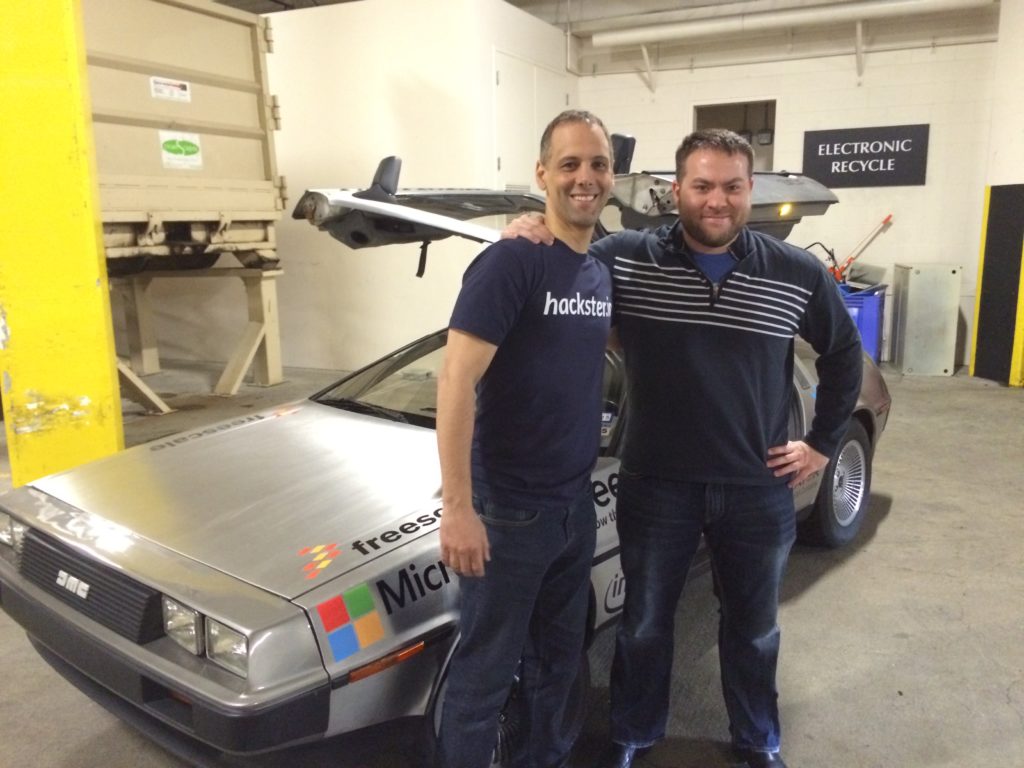 Adam and his team bought a used DeLorean which could barely function. The power steering was shot. It was quite literally a metal death trap on wheels with numerous engine problems. The DeLorean was so frightening to drive, no one dared to try to drive it from one location to the other. It was shipped on a truck to prevent and Back To The Future related death incidents.
God rest it's mechanical soul.
Fond Memories of China and Shenzhen

I remember my first visits to China and meeting the Maker Community there very fondly at the Intel IDF events in Shenzhen. I remain good friends with many of the people I met in China through Intel to this day.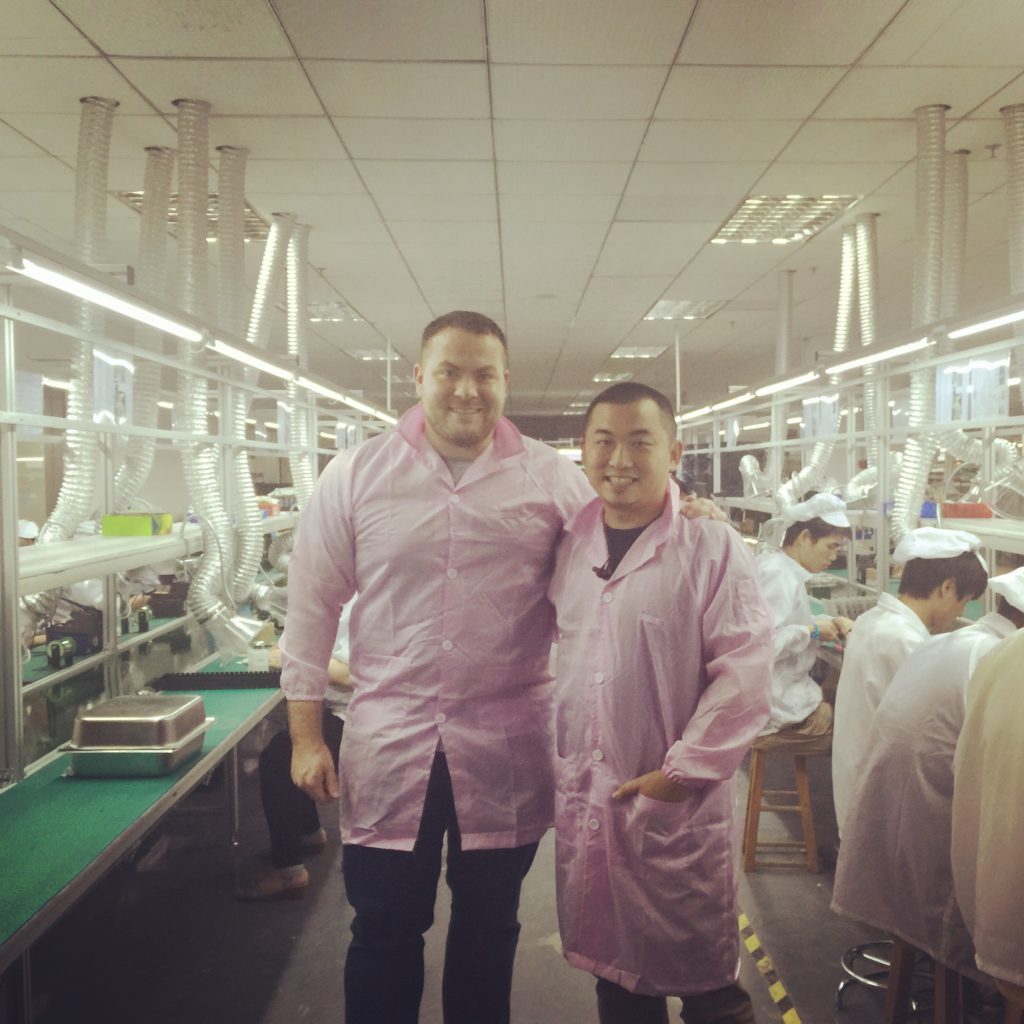 Eric Pan, CEO of Seeed Studio giving me a tour of his factory in Shenzhen.
One of my favorite things to see in Shenzhen is the Da Fen painting village. Painters sit in alleys creating many kinds of artwork by copying in oil and other paint. Looking forward to seeing Shenzhen again in the future.
The Inexplicable Obsession With Spiders
One weird characteristic of the Intel Inventor Platforms era was the universal obsession with spiders. Dancing spiders. Large spiders. Small spiders, Wearable Spider Dresses. Spiders on wheels. Swarms of spiders chasing each other. Everything was a spider.
The spider insanity began with the launch of the Intel Edison, which featured the first round of the notorious dancing Intel Spiders. Over the course of several years, new and more advanced spiders began to appear.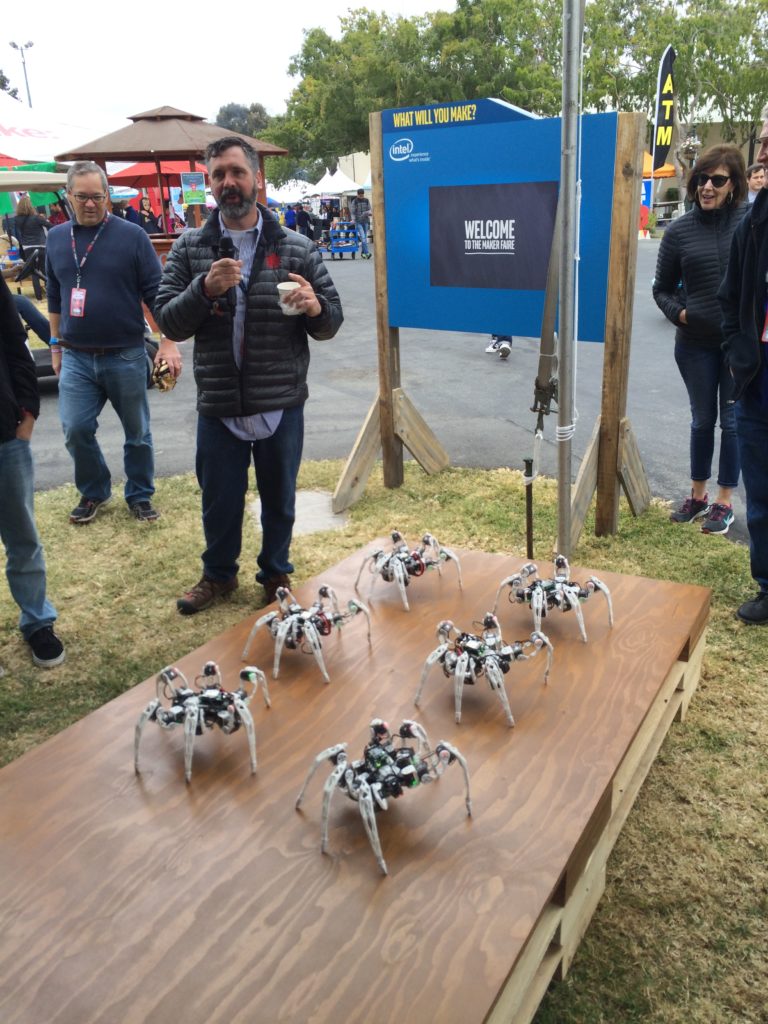 The spider infestation metastasized and grew to China. We began to work on the launch of small, ball shaped round spiders built by Maker Collider out of China.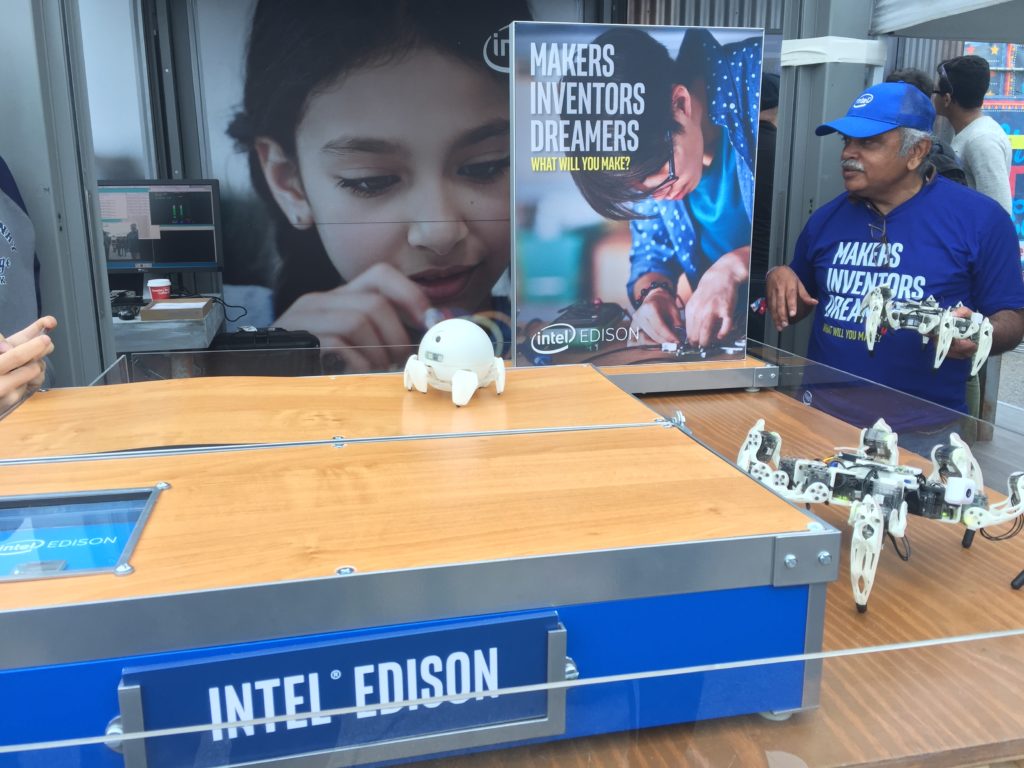 The spider infatuation culminated with the launch of the Intel Joule, which featured swarms of dancing spiders commanded by an 800 pound overlord spider on wheels.
And lets not forget Anouk Wipprecht's Spider Dress powered by Intel Edison.
Working with Amazon Web Services
One benefit of working at Intel was getting the ability to collaborate with all of Intel's major cloud partners such as Microsoft, Amazon and Google (and IBM). At the time, everyone was investing heavily in IoT resulting in scads of new services.
I got to collaborate extensively with these companies and their evangelists to certify and prepare the launch of the Intel Edison and then Intel Joule for their various IoT Platforms. This involve doing lots fo joint developer marketing enablement.
I have particularly fond memories of flying to San Francisco to train with the Amazon Web Services solutions architect team.
I also helped to certify the launch of Azure IoT on the Intel Edison and launch the Intel Joule with Windows IoT Core.
Reflecting on Intel IDF
Intel IDF was always fun. Generally, Intel made big product announcements targeting developers at these events. Many of the key developers from the ecosystem along with partners from our travels would join us. Intel IDF was ultimately cancelled and replaced with something about AI, I think they might be bringing it back, I haven't been paying close attention.
Intel hired Anouk Wipprecht to join us at Intel IDF and design some very complex mechanical dresses such as this one.
Intel Joule
One of the big product launches I had a part in was the launch of the Intel Joule module. The Intel Joule was a significantly more powerful compute module than the Intel Edison with a lot more capability. I worked a lot on the initial design of the Intel Joule, interviewing many of the Intel Edison customers to figure out what kinds of applications such modules would go into.
The Intel Joule had a sort of elongated form factor similar to a stick of gum. I spent a lot of time organizing workshops, ecosystem and researching the out of box experience leading up to the launch at Intel IDF 2017. I really loved the Intel Joule. It was cancelled along with the Intel Edison before I departed.
My favorite Intel Joule marketing stunt was installing the Joule into a five story mega attack robot at the 2017 Maker Faire.
Robotics and Intel Joule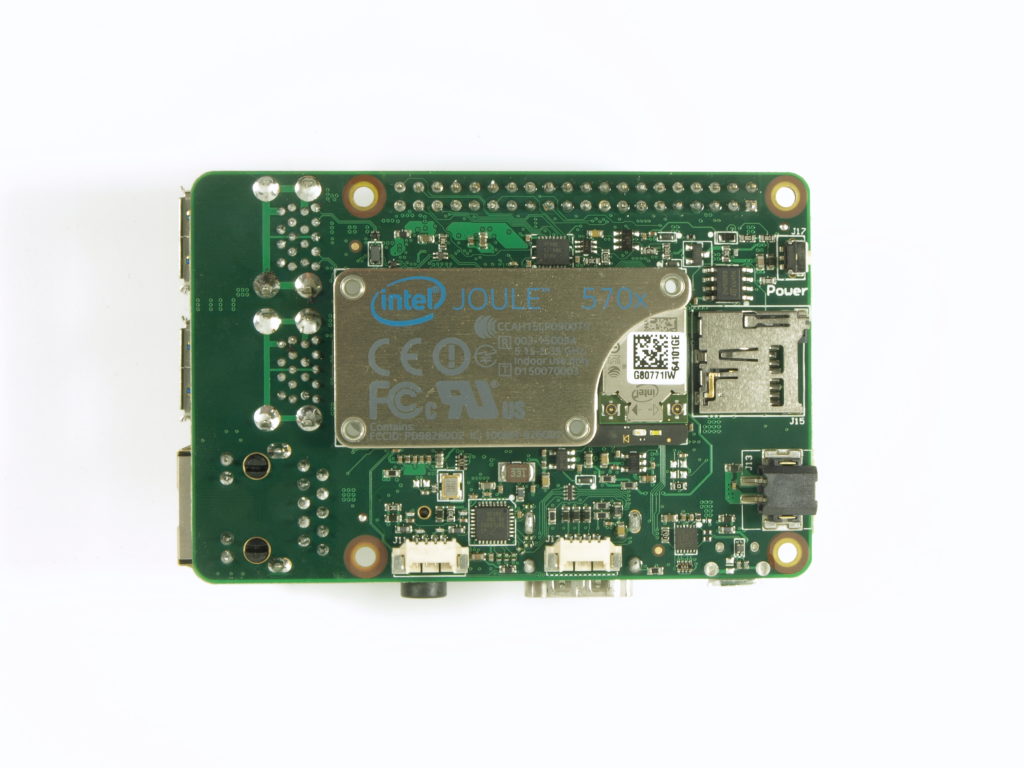 One of the key areas we targeted for the Intel Joule was robotics. I was lucky to get to meet a lot of the key people and work with robotics developers to enable Joule to go into robotics prototyping markets. The primary thing this involved was the development of new robotics prototyping platforms and carrier boards.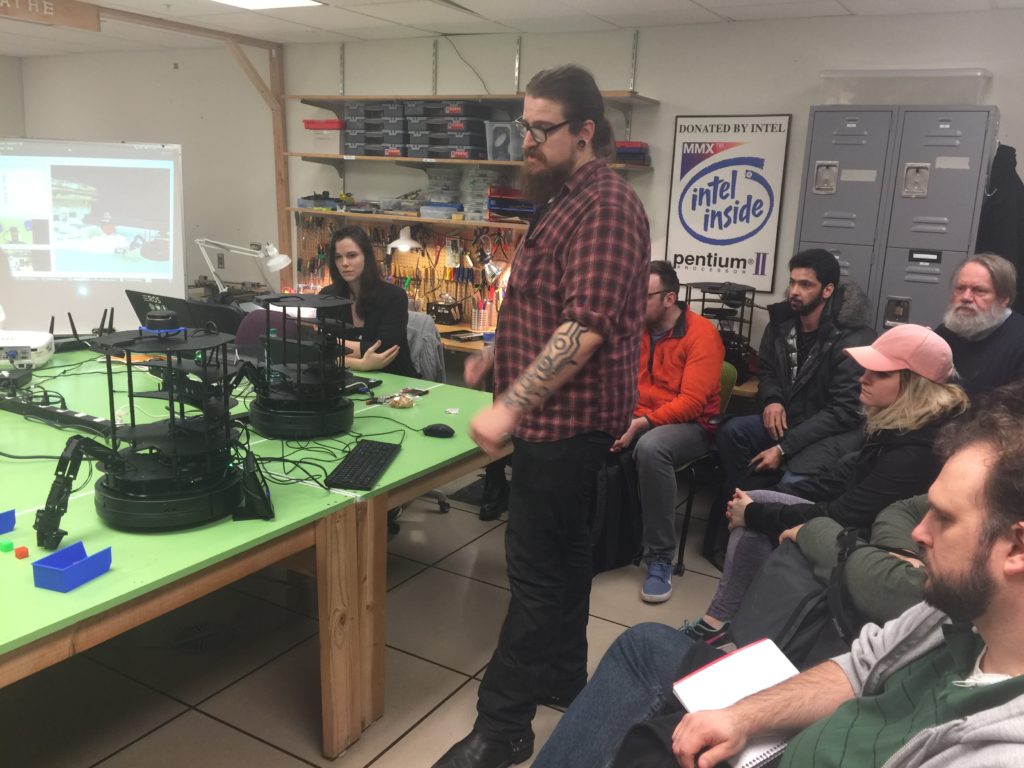 Intel Curie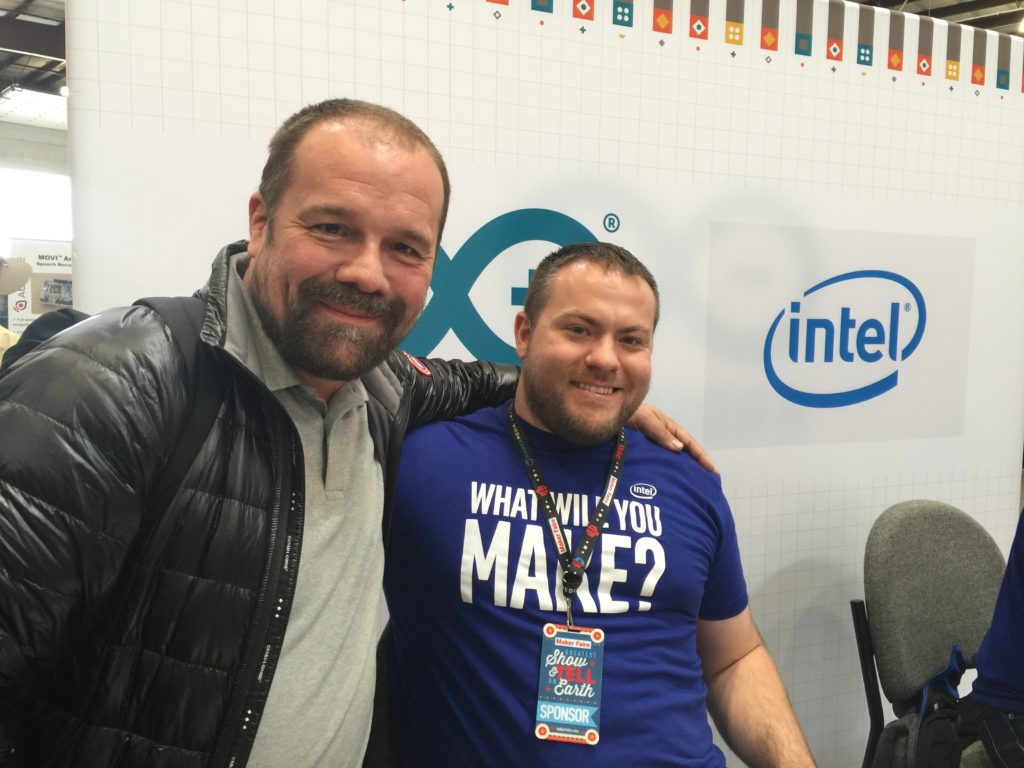 Of the Inventor Platforms, the Intel Curie was probably the least loved behind the Galileo. I personally liked the Intel Curie, the concept of having a neuromorphic memory which could be trained to recognize signals was and still is pretty cool. We never got the DX right to enable the AI features though. This feature combination would theoretically allow developers to build low-power, compact AI applications.
Another feature of the Intel Curie was that it allowed us to collaborate with Arduino. Working with Arduino, the Intel Curie was packaged into the Arduino 101. I got to know Massimo Banzi and the folks from Arduino as a result and really enjoyed spending following years working with them.
Closing Thoughts
Having lived in Seattle for most of the last ten years, I made the decision to move to Intel Hillsboro in Oregon in order to be with the team who designed and launched the Intel Joule. The decision was ultimately made to stop pursuing the Intel Inventor Platforms (although Intel Movidius survived).
When the news came down that the Intel Edison, Intel Joule and Intel Curie were being cancelled, I knew that I was done. I had put everything I had into building up a massive ecosystem around these platforms, running workshops, launching carrier boards, researching customers to figure out what to build, which gaps to close and more. I needed a change.
I have a degree in marketing and am a self-taught software engineer. Working on Intel's Inventor Platforms immersed me in the world of hardware. I loved it. Hardware is the most fun thing you can possibly work on (at least for me). The community of people I got to meet through these Inventor Platforms are the basis of my friendships and the work I continue to do to this day. I am never going to be as technical as the geniuses who built the silicon and hardware, but I learned some things along the way.
I made the decision to join Arm specifically because I had learned so much about the low-energy ecosystem from trying to promote the Intel Edison and Intel Curie to developers. And thats a wrap.