If you are a robotics startup or enterprise hoping to bring a physical robot or robotics service to market, you understand that there is an ocean of uncertainty about how to proceed. You are likely asking yourself questions such as:
How do I manufacture my robot?
What features do developers want?
How do I attract customers and users to my platform?
How do I take the robot from prototype to production and out to my target market?
I don't have all the answers, but I have certainly been through the process multiple times. In this case study, I am going to talk about my experience in helping the Washington-based startup Robodub bring their prototype robot to market on a shoe-string budget.
My core recommendation: You may want to learn to speak the marketing language of big silicon and tech companies because they resources they can bring to bear to help a robotics startup are significant – But you must be careful not to derail your vision and strategy along the way.
Bringing A Robot From Prototype To Production
I first met Parminder Devsi, the CEO of Robodub at an event I organized in collaboration with the Microsoft Garage. We had brought in a team of top local hardware experts to showcase their projects. From the moment Parminder walked in, I could tell that his overwhelming enthusiasm for the art and science of building robots was off the charts. I have now known Parminder for over five years and I can safely say that his motivation, optimism and energy are relentless: He is the guy who is going to build and launch robots and drones, no matter what the odds are.
The first prototype platform Parminder demonstrated was a four wheeler design using Mechanum Wheels (capable of moving in diagonal, horizontal and back-and-forth locomotion). While the first prototype of the Robodub platform was primitive, it worked and was engaging. I noticed that the enthusiasm in the room of developers wanting to pilot Parminder's robots was strong and decided that I would do what I could to help him get his product into the hands of real users.
While the product was very early, Parminder had something unique: An engaging demonstration for how Intel Edison can fascinate developers. The marketability of the Robodub solution was a tremendous help when it came time to bring Intel's resources to bear on helping them succeed.
Getting help from the big guys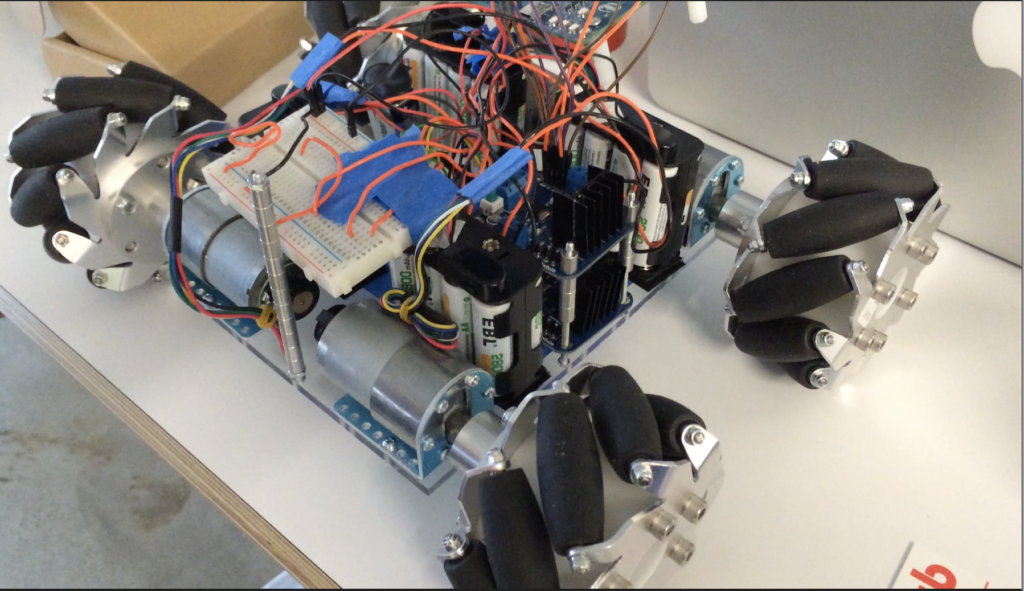 The immediate need at the time of the prototype was for engineering support to refine the electrical engineering and PCB into a consolidated platform. Thankfully, it turns out that many large companies have a tremendous abundance of engineering talent available…if you know how to access it. In this case, Intel was running a series of global hackathons focused on promoting the Intel Edison to developers around the world (and sending teams of skilled engineers). I invited Parminder to the Seattle IoT Roadshow and was able to connect him to the help he needed directly.
We were able to talk to the right engineers at these events and get support in how to proceed to optimize the robot for a more streamlined BOM cost and troubleshoot several annoying bugs in relation to actuation and Bluetooth connectivity. Having overcome the initial technical challenges, Robodub was ready to take the next step: Converting their robotics prototype into a product for real users.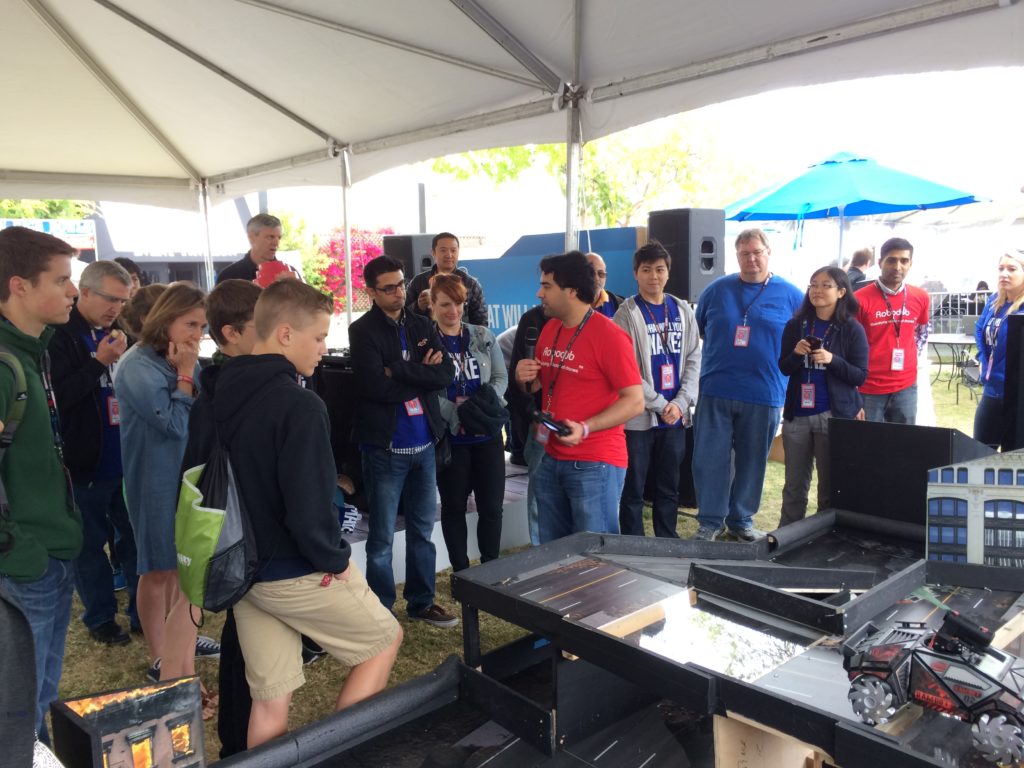 Conveniently at the time, Intel had a strong demand for interesting interactive marketing demonstrations for their booths, conferences and trade shows. The Robodub robot fit the bill perfectly. No other robot being built with Intel technology had the element of fun and interactivity, perfect for a marketing showcase. One thing to understand if you are a robotics startup looking for support from a major tech partner: The MARKETING DEPARTMENT HAS ALL THE MONEY.
Let me say that again, except louder: THE MARKETING DEPARTMENT HAS ALL THE MONEY. IF YOU MAKE YOUR ROBOT INTERESTING YOU CAN GET MARKETING DOLLARS TO SUPPORT YOUR STARTUP.
Whew. So what does that mean for you? It means that if you can find a way to convert your robot into something interesting, engaging that showcases a large tech companies' product – You pave the way to tap into the budget of the marketing department and to use that money to subsidize key product costs. You may also be able to gain increased access to engineering resources. In the case of Robodub, the Intel marketing department paid to convert their robot demo into a full diorama which could be brought to all the various trade shows and Maker Faires.
This demo enabled Robodub to appear in multiple major Intel booth installations with very high foot traffic, such as Maker Faire San Mateo where Parminder personally met the CEO of Intel himself.
The reason that Intel is such a large and successful company, aside from their engineering, is the "Intel Inside" campaign which convinced consumers that an Intel-branded product is significantly more valuable than a non-Intel product. To put it simply: Brands matter.
I can vouch for this myself. Working at Intel, introducing myself as being an Intel employee and emailing people from an Intel email address resulted in a significantly better response rate from nearly everyone than anything I have ever experienced previously. When people knew that I worked at Intel, the red carpet was rolled out. "You work at Intel? Right this way good sir." Part of the reason for this treatment was the tremendous expenditure Intel has placed in boosting their brand. Another part of this treatment is that people understand Intel is a $250+ billion market cap company and can bring tremendous resources to the table. Brand really do make a big difference.
In the case of Parminder's robot, by aligning Parminder with Intel's marketing messaging and direction, he was able to unlock significant technical and marketing support for his small startup in a way that was beneficial to everyone. Key product development and marketing costs as well as engineering were brought to the table because Robodub aligned with Intel's need to showcase their technology in an interesting way.
By appearing in the Intel booths, having an Intel Inside sticker on his robot – Parminder increased the perceived value of his startup by 500%. It might not be easy to get this level of support for your project, but if you can get a brand like that engaged – You start to look really good as a company.
Everything Is Marketing
In his book "It doesn't have to be crazy to work," David Heinemeier Hansson has a pro-tip:" Everything is Marketing." He is right. As engineers, product managers, ecosystem managers and technical evangelists building and marketing robots – We get confused into thinking that the technology is the core of what we offer. It isn't. The product is marketing, the engineering is marketing, the design is marketing – It is all marketing.
Whether or not you like it, building a robot is complex, hard, technical and difficult compared to building a SaaS startup. Here in the physical world: We need all the help we can get, and sometimes that help can come from learning to adapt to the marketing needs of major tech companies. This should never be the core strategy (making users happy is #1), but it can be an awfully helpful strategy to get resources directed in your favor.
There is a clear potential downside to taking this approach: Getting distracted and derailed from your vision. Handle this advice with great care.
If you are a robotics startup, my recommendation to you is to consider aligning your messages and product with the technical direction of whatever company is marketing the hardware platform you have chosen. If you are able to align yourself with their intended marketing spend, you are lining yourself up to receive potentially significant and life-changing engineering and marketing support for your robot. There is often plenty of room to do this without compromising your platform or product for your users.
Robots are HARD. They are hard to build, hard to market. You need all the help you can get.